As promised in week 13, Bleepie is now sporting a fetching new logo. I was lucky enough to work with my old school friend Fred Stidston to design it this week. He's a terrific designer and a sensitive collaborator, and I'm thrilled with how it turned out. It's a simple and bold mark that anchors the site and will help direct further design work.
As for the other promise from week 13…
The next big feature I'm working on is Facebook feed cross-posting for reviews. It's mostly done, I'm just making sure the experience is tightly integrated, unobtrusive, and obvious. You'll always know when a review is being posted to Facebook, and you'll be able to disable it completely, or force a prompt for every review. I'm looking forward to seeing Bleepie posts show up on my news feed.
That's live now too. Here's what you'll see the next time you write a review (as long as you've linked your Facebook account):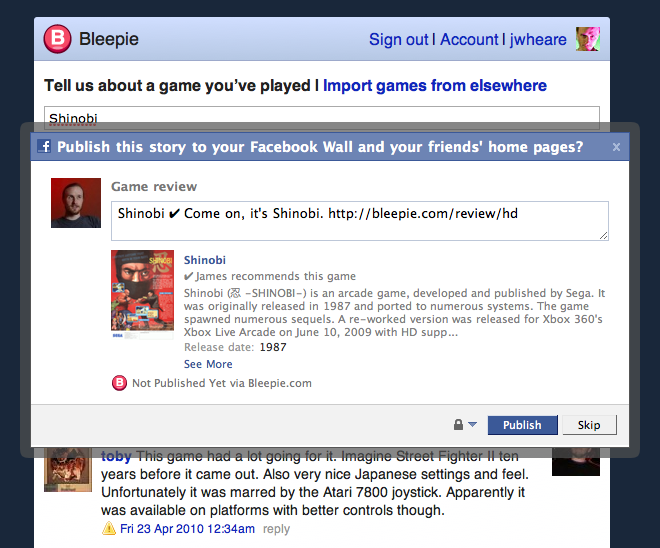 This gives you a preview of exactly how the review will look on your Facebook wall, and you can edit your review before posting.
If you don't want to use this feature, choose Skip at the Publish screen, then click on the link that appears to disable it:

If you always want your reviews to be cross-posted to Facebook, and don't need prompting every time, you need to grant Bleepie a special allowance to post on your behalf. After you publish your first review to Facebook, you should see a Request for Permission screen.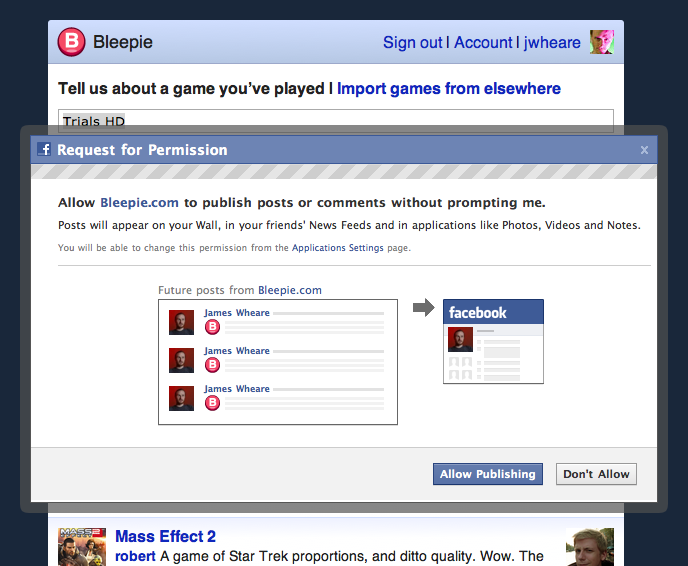 If you choose Allow Publishing, Bleepie will cross-post the reviews you write in future to Facebook in the background. You'll know this has happened when the "post to facebook" icon lights up blue. If you choose Don't Allow, you'll be prompted each time until you disable the feature.
Of course, you can change these settings on the account management page whenever you like.

One final note. If you choose to disable the feature, you can still use the "post to facebook" link to preview and send individual reviews to Facebook, just like you can with Twitter.

So that's that. I hope this integration is useful, respectful and fun. And just to be clear. Bleepie will never post anything to your Facebook or Twitter accounts without your knowledge or explicit permission.
Let me know if you have any questions, comments or concerns, my email address is james@bleepie.com, or you can rant publically on Twitter to @bleepiedotcom.